Featuring:
San Ramon Dental Excellence | Alamo Dental Excellence
+ Dr. Faroud Hakim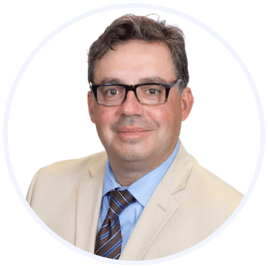 "Too often, when we buy a solution designed to save money, we must sacrifice quality and service
-- not with Wellplaece."
– Dr. Hakim
In the beginning…
When Dr. Foroud Hakim was ready to start practicing dentistry in the 1990's, most new dental graduates were joining Dental Service Organizations (DSOs) where they could just see patients and not worry about managing a business. Dr. Hakim opted for a more traditional route and looked for a practice to purchase in San Ramon, California.
He found a turnkey, mid-size, solo practice with a great team in place called San Ramon Dental Excellence. Dr. Hakim was now a dentist and a small business owner intent on delivering the best patient care with a keen eye to increasing profitability.
"The biggest challenge I faced at the beginning was purchasing," said Dr. Hakim. "I jumped in head first. The previous owner had delegated most of it to an assistant, but I wanted to be more involved. As the owner, I have 'skin in the game' and more to lose if we waste money on supplies."
Challenges of Running a Business While Practicing Dentistry
Dr. Hakim shared that the early years of purchasing were difficult. The dental supply industry is a complex ecosystem of suppliers, distributors, and direct-to-consumer sales. He was ordering from multiple catalogs as large as dictionaries and at times felt overwhelmed with the number of options and varying costs.
Small dental practices have smaller teams with big demands on their time. Navigating the purchasing of so many different supplies is extremely time-consuming. "I was a new practitioner and would research, for example, a bonding agent. I was exposed to one or two different products in dental school, but these catalogs held thirty or more options." Dr. Hakim worked on purchasing between appointments and on the weekends and spent a great deal of time researching and consulting with other dentists for the best products at the best price.
In the early years, the practice also struggled with inventory control. If Dr. Hakim ever fell behind in ordering, the practice would occasionally find themselves short of supplies for that day's appointments. This mistake necessitated paying rush charges for fulfillment and delivery, thereby significantly increasing the cost of those items.
"Time is money in dentistry. When I started, if I wanted to master purchasing, I had to put in a lot of time. Today there is a much better option. If someone is still out there trying to squeeze pennies by going through 15 different catalogs, you are wasting time and need to rethink your process. Wellplaece can help."
A Wellplaeced Solution
"Imagine that you, as a small business owner, suddenly have the buying power of a Costco."
– Dr. Hakim
The Wellplaece online platform was created specifically for the purchasing needs of the dental industry. No more catalogs and spreadsheets--Wellplaece will consolidate the process for all products and vendors. Now practitioners will save money and time and simplify purchasing without disrupting existing vendor relationships.
The Wellplaece platform helps dental practices save money two important ways: One, because Wellplaece manages huge volumes, they can negotiate better terms than any single practitioner could. Two, the system automatically compares, purchases, and finds savings on thousands of new products and the ones that you already use and trust. "Wellplaece has driven my costs way down and we haven't sacrificed on product quality," said Dr. Hakim.
Let Wellplaece do the price shopping for you. "It requires a lot less thought to just purchase the same products every time, said Dr. Hakim. "But Wellplaece is always watching out and will alert me to better pricing from their many sources."

Wellplaece will always find the best price and makes it easy to find better alternatives. "All I have to do is click on the brand that I want and then Wellplaece will do the substitution shopping for me." Now small dental practitioners can reduce costs and improve profitability, reduce margins, or buy that new piece of equipment!
"All I have to do is click on the brand that I want and then Wellplaece will do the substitution shopping for me."
Using Wellplaece, the purchasing process is now simplified and more transparent: One account. One portal. One invoice.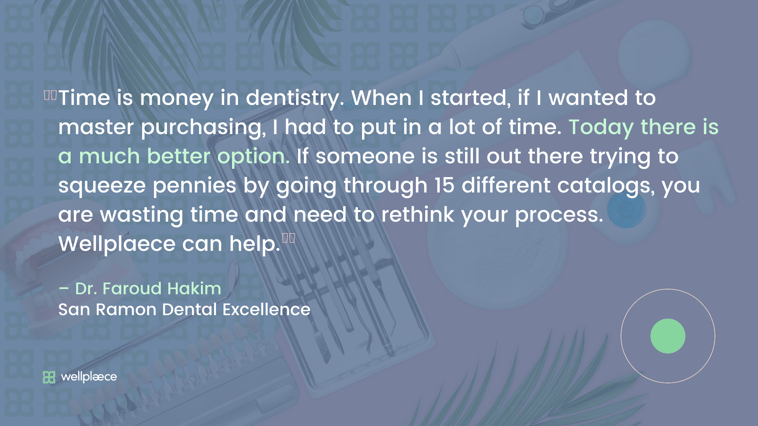 Streamlined Operation Frees Up Resources to Grow the Business
"With Wellplaece, I am saving at least 30% of the time I previously spent on putting an order together and I was already quite fast. I get the same or better products, save money, and spend only 20 minutes each week rather than a half-hour. In my world, we know the exact value of time and I can do a lot with more of it, including grow my business."
According to Dr. Hakim, San Ramon Dental Excellence is saving 20% to (in a few cases) 70% percent per item using Wellplaece. "I fancied myself a pretty good shopper, but I never had terms like these with my vendors." Dr. Hakim continued, "Our annual purchasing budget has dropped from an industry average of seven percent, to just four percent. I don't have to do more procedures to increase my net income; I don't have to work harder, just smarter."
Dr. Hakim was keen to talk about how the Wellplaece implementation process and services helped to streamline his business: "With only one 30-minute session, I was connected to the Wellplaece portal and was up and running."
"Not only was the onboarding fast and simple," continued Dr. Hakim. "I have always received white glove treatment from Wellplaece. I had a dedicated person there to set up products in the system, handle credentials, conduct training as needed, and they were always there to answer our questions."
The Future of San Ramon + Alamo Dental Excellence, and Other Dental Practices
Four years ago, Dr. Hakim brought on a partner and together they bought four boutique-style dental practices in Northern California. Dr. Hakim trains the new staff how to reduce time and money on purchasing by using Wellplaece. He learned purchasing at the school of hard knocks, but with the easy-to-use Wellplaece platform, his new staff is up and running quickly, enabling Dr. Hakim and his partner to realize better margins in each office much more quickly.
"Wellplaece has been a great ally as our business has grown. They helped me streamline ordering and inventory management for all the new offices. Now each one can provide optimal patient care while they optimize profitability."
Dr. Hakim expects the need for solutions like Wellplaece will only grow in the coming years as small dental practices will be squeezed from two sides: the insurance industry, which is reducing reimbursements, and the large DSOs that have greater buying power and the marketing budgets to acquire new customers. Dr. Hakim believes that Wellplaece "levels the playing field" for smaller dental practices.